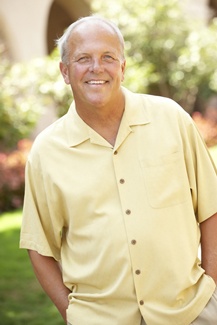 If you have suffered from tooth loss, you may feel burdened by the prospect of wearing dentures for the rest of your life. This is no longer the only future that awaits you. Modern dentistry at Elmsleigh House Dental Clinic in Farnham brings you dental implants. This clinically proven treatment for missing teeth brings greater stability than traditional dentures, with added long-term benefits for your dental health. Our dedicated team of dentists are waiting to restore your smile with dental implants in Farnham.

How do dental implants work?

Dental implants are small titanium screws that act as artificial tooth roots. Just like your natural tooth roots, they sit within your jawbone. New bone weaves in and around them, resulting in a stable foundation for the attachment of replacement teeth. This means you won't ever need to worry about your replacement teeth shifting out of place when you talk, eat or chew. What's more, dental implants prevent the loss of bone and gums that commonly occurs following tooth loss.