As you've probably heard, traditional train- track braces are not the only way to straighten your teeth.
In fact, they're not even the fastest way to straighten your teeth.
New types of braces called anterior alignment orthodontics, such as Cfast, are a much faster way to cosmetically straighten teeth. These new braces work on the same principle as traditional braces, but are widely considered to be much more comfortable, more discreet and faster acting.
It would be impossible to say that Cfast is the fastest way to straighten teeth, because everyone's smile is different, but for many it is one of the faster ways to a straighter smile.
Download our guide to faster orthodontics - Fast teeth straightening for all ages.
How do Cfast braces work?
Cfast braces are a simple, cosmetic teeth-straightening treatment known as anterior alignment orthodontics. Cfast corrects the alignment of the top and bottom front four to six teeth, which people are most concerned about aesthetically; these are the part of your smile everyone can see.
This means that Cfast has a faster effect than conventional orthodontics as it focuses on tipping or mildly rotating the front teeth rather than moving teeth through the bone.
Although it's not considered a replacement for more extensive conventional orthodontic treatment, it is ideal for people who want a significant cosmetic improvement in their smile, in a much shorter time as it only focuses on the front teeth you can see.
There's also the added benefit that Cfast braces are very discreet.
The brackets attached to your teeth are clear, and the wire used is tooth-coloured, which minimises the visibility of the braces.
It also is made of special materials that retain their shape, gently moving your teeth into their new position.
Cfast braces are known for allowing more precise movements, which means that treatment is typically completed faster than with other systems.
Once teeth have been aligned, many patients opt for teeth whitening and cosmetic bonding to improve the final look and symmetry of their smile.
As with all orthodontic treatments, long-term retention will be required to help prevent relapse of the newly aligned teeth, and this is even more important for anterior alignment orthodontics.
At Elmsleigh House Dental Clinic in Farnham, Surrey, our dentists recommend both a bonded fixed retainer and a clear plastic removable retainer for night-time use to ensure you maintain your straighter smile.
How long does treatment take?
Cfast is known in the dentistry as 'short-term orthodontics', 'anterior alignment orthodontics' or 'cosmetic orthodontics'. These treatments are significantly faster than traditional braces, and usually take no longer than 9 months.
The majority of treatments are completed in around 6 months. Once your dentist has examined your teeth and assessed the amount of alignment you will need, they'll be able to give you a better idea about how long treatment will take.
Download our guide to faster orthodontics - Fast teeth straightening for all ages.

Is Cfast better than traditional braces?
It is important not to draw direct comparisons between faster orthodontic (or anterior alignment) systems and traditional braces. Traditional orthodontics is concerned with fixing the alignment of all the teeth, with the aim of improving function as well as appearance.
This may even extend to altering the shape of the jaw to improve biting and chewing.
Anterior alignment systems like Cfast, however, are aimed at adults only, and are often for cosmetic reasons; however, there is also a functional reason for straightening teeth as over time crowded or misaligned teeth will worsen, which is an important aspect to consider when deciding treatment.
It may be that your dentist needs to gain space to align teeth by either tipping them outwards to expand the shape of the arch or by completing inter-proximal stripping to aid the movement of your teeth.
This is a carefully measured and performed procedure that not only provides additional space for the teeth but allows them to glide past each other easier during treatment.
This will not damage your teeth or make them more sensitive, and your dentist should be able to provide research papers on this part of the treatment if necessary.
Cfast is a minimally invasive way of straightening your teeth quickly.
The mild pressure exerted forces your teeth to move, but without the severe tightening that often causes discomfort for traditional brace wearers.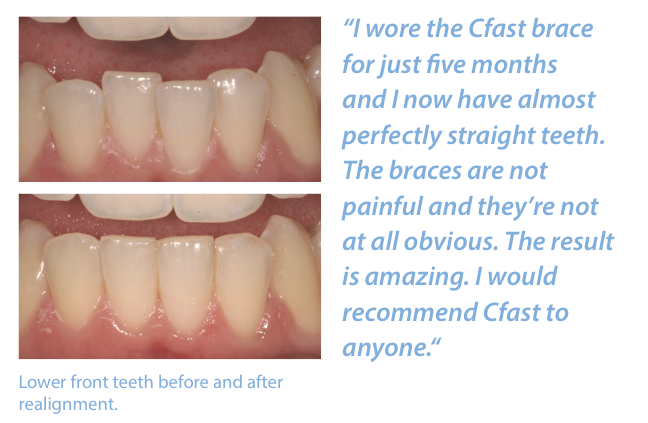 Check out this video to learn more about Cfast: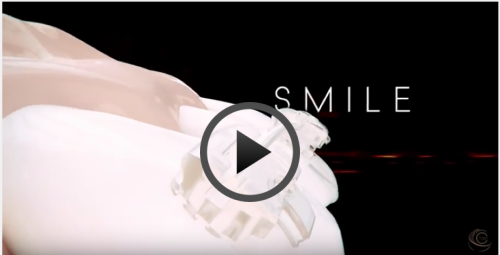 The best way to find out if Cfast braces are suitable for you is to visit your nearest Cfast-qualified dentist or orthodontist. They will be able to tell you if Cfast is an option for straightening your teeth, and answer any questions you may have about faster orthodontic treatments.
Dentist Cathleen Perrin offers anterior alignment orthodontics such as Cfast to quickly straighten most adults' teeth.
At Elmsleigh House, our Specialist in orthodontics, Kostas Spathoulas, offers an extensive range of bespoke brace solutions for all ages.
Dentist Sarah Francis also offers Invisalign braces, a discreet and removable solution for most adults.
Click below to book a consultation that best suits your needs.