People with crowded, widely spaced or misaligned teeth can get into the habit of hiding their smiles, feeling self-conscious in social situations or shying away from the camera. Very crooked teeth can even cause problems with eating or speaking. At Elmsleigh House Dental Clinic in Farnham, braces have allowed many adults and children to benefit from having straighter teeth. This contributes to an enhanced appearance, helps the jaw develop properly in children and also means that the mouth functions correctly. Straighter teeth are also easier to keep clean as there are fewer gaps in which plaque can accumulate.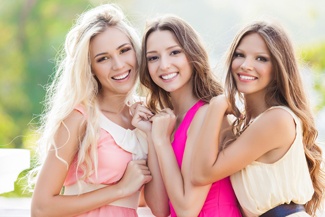 Modern solutions for straighter teeth

The best time to treat misalignments is during childhood, but even if you missed out on corrective procedures earlier in life, it is not too late. There is now a diverse range of braces available, so you do not have to worry about fixed metal braces, which are often seen as uncomfortable, time-consuming, inconvenient or unsightly. Thanks to modern techniques, we can offer braces in Farnham to fit in with every lifestyle. Procedures now are faster, more comfortable and less obtrusive than ever before, so everyone can experience the joy of having straighter teeth. You can choose from fixed or removeable braces in Farnham and some of the materials used are almost invisible.

Straighten your teeth quickly and discreetly

If you have mild to moderate problems with your teeth in Farnham, braces that focus on just the front teeth could be a quick and effective option for you. Tooth-coloured wires and clear brackets mean that braces can be very discreet. Another option if you are looking for braces in Farnham is Invisalign. This process uses a series of almost invisible clear aligners that carefully guide your teeth into the desired position. The smooth plastic aligners are individually made to fit your teeth, so are very comfortable. The Inman Aligner uses special metal springs and bows that create gentle forces to move the teeth. Both aligners are removeable for eating and cleaning.

Give yourself the gift of a more attractive smile and find out how we can help you with braces in Farnham.

For further information or to book an appointment, call the Welcome team on 01252 713797, email info@elmsleighhouse.co.uk or click here to request an appointment online.