Cathleen, Sarah and Kit are the friendly and experienced dentists at Elmsleigh House Dental Clinic in Farnham, who are offering all new private patients a HALF PRICE new patient consultation if booked during January 2017*!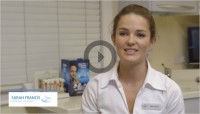 Click to watch dentist Sarah talk about general dental treatments at Elmsleigh House.
During your new patient consultation, our dentists will perform a thorough dental examination, taking photographs of your teeth and smile and x-ray pictures as needed. They will discuss all findings and recommendations with you, which will be written up as a treatment plan detailing all costs involved. We guarantee that this quote will not change throughout treatment, ensuring you are completely satisfied with your teeth and smile with no hidden costs.
Testimonial
"I recently became a patient at Elmsleigh House Dental Practice. Initially I was … an emergency patient and received first class treatment. Subsequently I have become a permanent patient and received 1st class dental care and advice. I have always been a reluctant attendee of a dentist but the care and professionalism I have received from all the staff at Elmsleigh has converted to me taking a far more proactive management of my dental care and generally feel a lot better about my dental provision…. I would highly recommend Elmsleigh for all aspects of service they provide and believe the service and care they provide offers good value"
To book, call 01252 713797, email info@elmsleighhouse.co.uk or click here.
*Not for referred patients.