Do you find yourself looking happy grinning for the camera, or do you try and hide if someone tries to take a photograph of you? If you are less than happy with your smile, you are not alone. Many adults are aware that the appearance of their teeth is less than ideal, and now many of us are choosing to do something about it. Cosmetic dentistry is playing an important part in helping many people feel more confident about their appearance these days.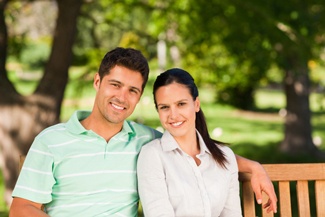 As long as your teeth are generally healthy there are plenty of cosmetic dental techniques that can rapidly improve the look of your teeth, giving you many more reasons to smile. Here at our practice in Farnham, cosmetic dentistry can resolve all the aesthetic issues that you might have with your teeth.
Giving you more reasons to smile
If your teeth are a little discoloured or stained from drinking tea and coffee or perhaps from smoking, then a teeth whitening treatment may be all you need to get you smiling again. The whitening process is achieved using a bleaching gel, which you add to a specially-made tray that you wear for a few hours each day until your teeth have reached the colour you have chosen. It is not always possible to whiten your teeth - some medications can permanently affect the colour of your teeth and this cannot be improved by bleaching - in this case, veneers may be the answer.
Dental veneers can be used to improve teeth that are discoloured, oddly shaped, chipped or damaged. Thin porcelain veneers are applied to your front teeth to restore or improve their appearance. These are precisely matched to your tooth colour, so, if you're thinking of having your teeth whitened you would need to have this done before the veneers are made so they match your chosen tooth colour. Veneers cannot be bleached with teeth whitening products.
Getting straight to the point
Crooked, protruding or gappy teeth can be straightened and re-aligned using different types of braces. Depending on the severity of the problem, the treatment can take as little as six weeks to complete. If you have missing teeth we can also restore your smile with dental implants.
Come and see what cosmetic dentistry in Farnham can do for you. Call 01252 713797, email info@elmsleighhouse.co.uk or click here to request an appointment online.