For many people in Farnham, cosmetic dentistry is helping them to look better and feel happier about the appearance of their teeth. Even if your teeth are strong and healthy, you may feel that their appearance could be improved. In some circumstances, the appearance of your teeth can affect your life by making you feel less confident about smiling or talking. There are a number of ways that the overall appearance of your teeth can be improved using a range of cosmetic dental procedures. Here at Elmsleigh House Dental Clinic in Farnham, cosmetic dentistry is giving our patients something to smile about.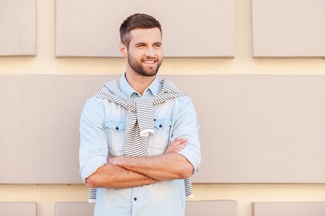 The first and simplest step to improve your smile if your teeth have become discoloured may be to have your teeth whitened. Teeth naturally become discoloured over time, especially if you smoke or regularly drink tea, coffee, red wine or carbonated drinks with caffeine in them. Here at our practice in Farnham, we use a system of custom-made trays and carbamide peroxide gel, which you use at home until you achieve your desired level of whiteness.

In certain cases, your teeth may have been affected by the use of certain prescription medication. Sadly, teeth whitening cannot be used to resolve this. Existing white fillings, crowns or veneers will also remain unchanged by the bleaching process.

Reshaping and realigning with cosmetic bonding

If your teeth are slightly uneven or have small gaps, but you prefer not to have braces, we can improve the shape and spacing using cosmetic bonding to make your teeth look even and well-spaced. This minimally invasive treatment protects the structure of your teeth. If you have more serious damage or your teeth are very badly discoloured or have noticeable flaws, these can be restored using either porcelain crowns or veneers.

These treatments are most suited to teeth that are already damaged, as it is necessary to remove a certain amount of enamel or parts of the tooth to fit the veneers or crown. Whatever your cosmetic dental problems are, there will be a solution, so make an appointment with us to find out more about cosmetic dentistry in Farnham.

For further information or to book an appointment, call the Welcome team on 01252 713797, email info@elmsleighhouse.co.uk or click here to request an appointment online.