Your smile is one of your most valuable assets. Cosmetic dentistry is continually developing and with a variety of treatment options, achieving a beautiful and healthy smile is now easier than ever.
At Elmsleigh House Dental Clinic in Farnham, Surrey, we appreciate that a beautiful smile can make a stunning contribution to your face and self-esteem. Thats why we strive to give you something to smile about with cosmetic dentistry in Farnham. Whether you want to repair cracked and chipped teeth, restore the brightness of your smile with teeth whitening or fill minor cavities with white fillings, we have the right treatment for you.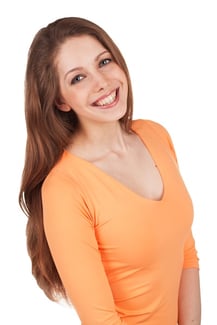 Dental veneers
Dental veneers are thin, custom-made porcelain shells, which are fixed to the fronts of your teeth. They are ideal for concealing stained, chipped or misaligned teeth, or for minimising the gaps between your teeth.
At Elmsleigh House Dental Clinic, veneers are made of stain resistant porcelain. We can match your porcelain veneers to the precise shade of your other teeth. We can also change the shape of your veneers to make your teeth appear longer or closer together.
Teeth whitening
Having yellow or brown stains on your teeth can be embarrassing, but you do not have to put up with this. At Elmsleigh House Dental Clinic, we offer at-home teeth whitening with custom-made trays. Our teeth whitening treatment is a safe procedure, which brightens your teeth by several shades without damaging them.
White fillings
If you have unsightly metal fillings, you can have these replaced with modern white composite fillings that will leave your mouth looking natural and healthy. This is a safe and quick procedure that involves one of our dentists removing any decay from your tooth, taking out the metal filling and placing a white filling in its place. White fillings are not only aesthetically appealing, but they can also diffuse pressure more effectively over the surface of the tooth.
With cosmetic dentistry in Farnham, you can now feel more confident about your appearance. You no longer have to endure missing, chipped, discoloured or crooked teeth. So book an appointment with us today and look forward to brighter smiles before you know it.
Call the Welcome team on 01252 713797 to book an appointment that suits your needs.