As reported in the September issues of Oral Health Magazine and the Journal of Dental Research, a new imaging technique has been developed to detect gum disease using squid ink, light and ultrasound. The team of researchers from the University of California have developed a technique whereby the patient rinses their mouth with a paste containing squid ink and a laser is shone on the area. When the light hits the squid ink this heats up and expands, creating pressure differences in the gum pockets that can be detected using ultrasound. The researchers claim that with this new method it is possible to image the entire pocket depth around the teeth, consistently and accurately detecting whether gum disease is present.
Elmsleigh House Dental Clinic is one of the few dental clinics in the UK offering the MMP8 test - a saliva test for periodontitis (gum disease). MMP8 (activated matrix metalloproteinase-8) is an enzyme that is produced in the gums whenever active tissue damage and inflammation is taking place, such as in periodontitis.
Our simple and effective test has been developed in Germany to detect MMP8 in a person's saliva, indicating the activity of previously undetected periodontitis.
The MMP8 test is extremely simple and painless, and involves:
Rinsing your mouth with purified water for 40 seconds and spitting this into a cup
Taking a sample of saliva from the cup and pressing it through a filter into the MMP8 test kit
Reading the result directly from the test kit after 5–10 minutes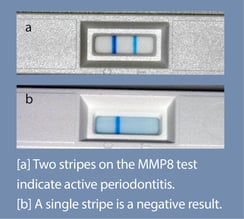 If two stripes appear, this is a positive result that the MMP8 enzyme is present in the saliva, which is a marker of active periodontitis requiring treatment; if only one stripe appears, this is a negative result (no active periodontitis).
For more information or to book a consultation with Manoj Tank, the Specialist in Periodontics at Elmsleigh House Dental Clinic, call the Welcome Team on 01252 713797, email info@elmsleighhouse.co.uk or click here to request a phonecall online.