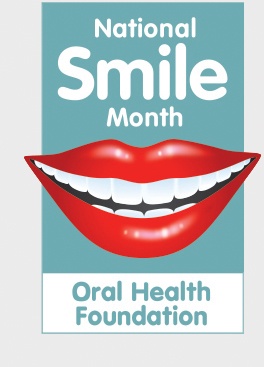 National Smile Month is the UK's largest and longest-running campaign to encourage people to look after their teeth and smile.
The campaign was first introduced as the 'Smile 77' project in 1977, which was repeated a year later. This became National Smile Week in 1979, which grew in popularity over the subsequent years. As a result, National Smile Week became National Smile Month in 2006, and has since been adopted internationally.
This year, National Smile Month runs from 15th May–15th June 2017, with the continuing aim to promote three key messages to encourage people to develop and maintain a healthy mouth:
Brush your teeth last thing at night and at least one other time daily with a toothpaste containing ≥1450 ppm fluoride, as this helps protect teeth from cavities and makes teeth stronger; you must spit not rinse to avoid washing it away.
Cut down on how often you have sugary foods and drinks, as sugar has been identified as a major factor in dental decay; it is best to reduce sugar to meal times only.
Visit your dentist and hygienist for regular check-ups, as often as they recommend. They will closely monitor the health of your mouth and offer advice on how to maintain good dental hygiene at home.
Click here to book your dental check-up or hygiene appointment at Elmsleigh House.