When people think about cosmetic dentistry in Farnham, they often mistakenly assume that the results will be as full-on and fake-looking as we see on many celebrities both in the UK and US -bigger, whiter artificial teeth that cannot possibly be the ones they were born with.
However, at Elmsleigh House Dental Clinic, our aim to is offer cosmetic dentistry in Farnham that delivers the far more subtle message of happiness and well being that comes with a beautiful, natural-looking smile. We therefore offer various treatments that do not involve fitting prosthetics, but retain as much of your natural teeth as possible.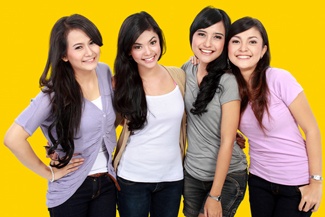 Revamp your fillings, revamp your smile
Have you ever been with someone who has thrown back their head to laugh and shown you their entire dental history in the form of rows of amalgam fillings? All that dark metal, it's not an attractive sight is it?
At Elmsleigh House Dental Clinic, we can replace your old unsightly amalgam fillings with fillings that match the natural colour of the surrounding tooth material. White fillings have been available for years now, but it is only recently that new materials were developed that can withstand the pressures and strains of chewing as well as amalgam can.
We replace your old fillings, or fill new cavities, with these special composites, building the filling up in layers. Each layer is hardened with a special light. When the layers are complete, we shape it so that it has the contours of a natural tooth, rather than the flat surface that amalgam has. This makes chewing more effective. One last touch is to polish the surface of the filling so that its smooth surface will not be as prone to wear and staining.
Give your natural teeth a mini-facelift
Cosmetic dentistry in Farnham also uses these incredible new composite materials to subtly revamp your natural teeth, smoothing over chips, rebuilding worn edges, fixing minor alignment issues, and filling in small gaps between teeth. All of this can be achieved in one appointment, rather than the two appointments needed to create custom veneers to cover imperfections.
If you would like to find more about the subtler forms of cosmetic dentistry in Farnham, please call 01252 713797, email info@elmsleighhouse.co.uk or click here to contact us online
We love to tell people what we can offer to boost their smiles.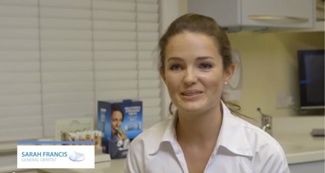 Click to watch one of our dentists, Sarah Francis, talk about the range of cosmetic dental treatments offered at Elmsleigh House Dental Clinic in Farnham.