Many adults would like straighter teeth. Overcrowded or gappy teeth can cause a range of problems, including difficulties with biting and chewing and keeping your teeth clean. Your self-confidence may be affected, and you may hide your teeth when you smile.
Our dentist Cathleen Perrin can quickly straighten most adults' teeth with a range of faster brace systems, such as Cfast, Inman Aligner and Clear Aligners, which can substantially reduce the length of treatment time while remaining kind and safe to teeth.
These anterior alignment braces focus on applying gentle pressure to move the front four to six teeth into the correct position in as little as six weeks to nine months! They offer a cost-effective, discreet and faster way to straighten most adults' teeth.
Cathleen Perrin offers a FREE consultation to adults to determine if she can straighten your teeth with these faster systems.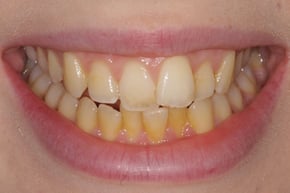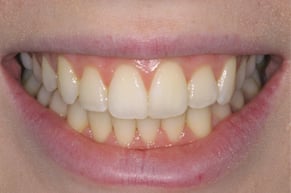 Before and after faster teeth straightening and whitening
To book or for more information, call 01252 713797, email info@elmsleighhouse.co.uk or click here to request an appointment online.
Elmsleigh House Dental Clinic is a private dental practice at 6 Station Hill, Farnham, Surrey GU9 8AA, dedicated to ensuring all patients are happy with their teeth and smile.