Losing teeth can be a stressful part of our lives. Despite the best efforts of dentists, teeth are sometimes lost as a result of tooth decay, dental infections and trauma. The presence of gum disease, genetic factors and how well we look after our teeth can change the likelihood that we lose teeth in our lifetime.

Here at Elmsleigh House Dental Clinic in Farnham, we understand that choosing the right method of tooth replacement for you can be a confusing journey; but our aim is to have you back to your normal quality of life as soon as possible. This is why for many patients we recommend dental implants in Farnham.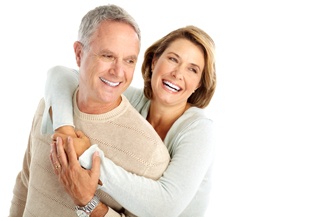 How can dental implants help me?

Dental implants are the most durable and reliable form of tooth replacement. This is because implants work together with the natural function of your body to provide a strong and stable anchor for a false tooth.

You can replace anything from a single tooth to a whole set of teeth with dental implants. They can also be used to secure existing dentures, eliminating the need for annoying denture adhesives and other products.

Many patients, once their dental implant treatment is complete, are delighted to have replacement teeth that behave just like real ones. In Farnham, dental implants are the most natural-looking and -feeling tooth replacement.

Dental implant procedure

Here at Elmsleigh House Dental Clinic we like to make the whole implant process in Farnham as simple as possible. The treatment involves a minor surgical procedure in which a small hole is drilled into your jawbone.

A titanium screw is inserted into this hole and then your bone is allowed time to heal around the screw, integrating to form a secure anchor for a crown, bridge or denture to be attached.

You should be healed and back to normal after six months, if not sooner. We believe that implants are a great solution to get you back to eating your favourite foods and smiling with confidence in no time, no longer letting tooth loss get in your way.

Dental implants are a solution that could last you a lifetime, if placed by an experienced dentist and looked after correctly, which is something to keep you smiling!

For further information or to book an appointment, call the Welcome team on 01252 713797, email info@elmsleighhouse.co.uk or click here to request an appointment online.