More and more people up and down the UK are choosing to improve the cosmetic aspects of their smiles, and for good reason. In a recent UK study by National Smile Month, it is shown that the smile is the first thing we notice when meeting a new person.

Here at Elmsleigh House Dental Clinic in Farnham, cosmetic dentistry is taken very seriously. We provide a wide range of treatments for many cosmetic problems. With advances in modern dentistry, there has never been a better time to make the most of your natural smile.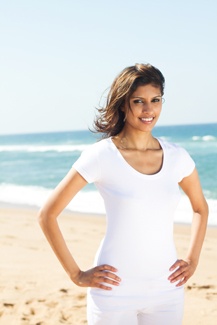 Teeth whitening options

The most sought-after form of cosmetic dentistry in Farnham is teeth whitening. Teeth whitening can give your smile a fast, cost-effective boost. Staining can happen as a result of the things we like to eat and drink, and from smoking. Tooth discolouration is not irreversible, and teeth whitening can last a long time if the teeth are looked after properly following the treatment.

Teeth whitening is a simple process. A set of custom-moulded plastic trays will be made for you, and you will be shown how to correctly and safely apply your whitening gel. The majority of the treatment takes place at home, with the trays and gel being worn for the time specified by your dentist. You should continue the treatment until you are happy with the shade of your teeth.

Cosmetic bonding and teeth reshaping

If your teeth are chipped or youre not happy with the shape of your teeth for any reason, you should discuss cosmetic bonding and teeth reshaping with one of our professionals.

This type of cosmetic dentistry in Farnham can smooth the surface of your tooth to create a more equal, uniformed smile. A benefit of this treatment, as opposed to treatments like porcelain veneers, is that this treatment isnt destructive to your natural teeth.

The aim of cosmetic dentistry in Farnham is to make the most of your natural teeth and give you a confidence boost at the same time. Many cosmetic treatments also come with hidden health benefits, so theres no time like the present to regain confidence in your teeth and smile.

For further information or to book an appointment, call the Welcome team on 01252 713797, email info@elmsleighhouse.co.uk or click here to request an appointment online.