If you are struggling with missing teeth or loose dentures, find out how we can help at our open evening on "Solutions to missing teeth" on Tuesday 6th September, 7-8.30pm, at our Farnham practice*
Chat to Tim Thackrah and Hugh Cowley from the dental implant team over a welcome drink in a relaxed setting, and find out how dental implants offer a secure, natural-looking and long-term replacement to your missing teeth. Tim is a trusted authority on dental implants and will give each person attending the open evening a free copy of his book – Transform your smile and life with dental implants (RRP £15).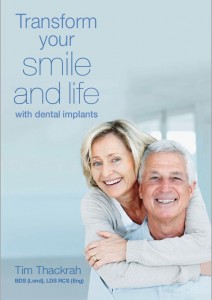 Frank Johnson, the experienced clinical dental technician at Elmsleigh House, can chat to you about your denture options. Frank makes dentures that look like your natural teeth and fit precisely, enabling you to talk and eat with confidence in your replacement teeth. You can book a FREE denture consultation with Frank at Elmsleigh House to determine the best denture solution for you with consideration of your health, cosmetic and financial needs.
Book your FREE place at the open evening by calling 01252 713797 or email info@elmsleighhouse.co.uk.*
Elmsleigh House Dental Clinic is a private dental practice at 6 Station Hill, Farnham, Surrey GU9 8AA.
*This would not be suitable for patients referred to Elmsleigh House by their dentist.