Dental Appointment
We are here to help you keep your teeth as healthy as possible for life. We see patients of all ages for general and family dentistry, and are valued for our high-quality and consistent care. We offer a comprehensive range of services in a welcoming environment, and our experienced team of dentists, surgeons, hygienists and technicians is dedicated to ensuring all patients are happy with their teeth and smile.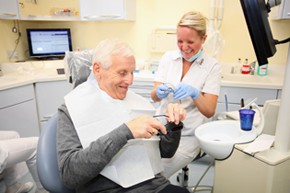 You can have a tea or coffee in our waiting room and look at our brochures, magazines and iPads before your treatment. We limit the number of patients we treat in a day, so that you will be seen on time in a relaxed and unhurried atmosphere. We therefore appreciate 48 hours' notice if an appointment cannot be kept, and have an answering machine to take messages when the clinic is closed.

Your first appointment lasts an hour long so that the dentist has time to listen to your concerns and assess your treatment needs. Our dentists are welcoming and friendly, and will put all patients at ease. For those patients who are nervous about dental treatment, we offer a range of sedation options, to ensure your visit is a less stressful experience.
To book an appointment at Elmsleigh House, you can contact our Welcome Team on 01252 713797 or email info@elmsleighhouse.co.uk. Calls will be recorded for monitoring and training purposes.
Please visit our new patients pages and treatments pages for more information.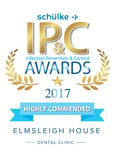 As part of our Infection Prevention and Control Policy, we ask patients that if you have a cold sore (caused by the Herpes Simplex Virus type 1) for less than 2 weeks, please reschedule any non-emergency dental treatment until after this contagious period has passed. If urgent dental treatment is required (ie you are in pain and need immediate attention), our dentists will request that your cold sore is protected with a cold sore plaster to minimise the risk of cross-infection. We are proud that Elmsleigh House has won an award for our Infection Prevention and Control Policy as it shows our care and commitment to protecting our patients and team.