We continue to be open to treat patients safely. With our enhanced infection control procedures in place, we are able to offer our full range of treatments to ensure you can access the dental care you need.
Please call the Welcome Team on 01252 713797; if you are unable to get through due to high demand or outside clinic hours, please leave a message or email info@elmsleighhouse.co.uk and we will get back to you as soon as possible. Many thanks.
UPDATE FOR PATIENTS REGARDING CORONAVIRUS (COVID-19)
All of our dentists in Farnham are working with enhanced PPE (personal protective equipment), new sterilisation and fogging technology, and a stringent infection control policy in place to see patients safely. Please note that a surcharge due to the coronavirus pandemic will be added at a cost of £10 or £30, depending on type of appointment, as we have to allow time between specific appointments for deep cleaning as per our policy.
Watch our short film, which shows all we have put in place with your safety in mind, and the new way we will be working together to protect our patients and team.
We wish to reassure that we are opening safely with enhanced equipment and protocols, ensuring our patients and team keep safe and well. We thank you for all understanding as we work together to ensure all patients get the treatment and care they need.
BOOK AN APPOINTMENT
Telephone the Welcome team on 01252 713797
During clinic opening hours or leave a message on the answer phone. Calls will be recorded for monitoring and training purposes. If you have an urgent dental problem, please call before 10am and we will arrange to see you as soon as possible. Fees for emergency dental treatment are calculated at £150 per 30 minutes.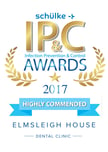 Cold sore policy. As part of our Infection Prevention and Control Policy, we ask patients that if you have a cold sore (caused by the Herpes Simplex Virus type 1) for less than 2 weeks, please reschedule any non-emergency dental treatment until after this contagious period has passed. If urgent dental treatment is required (ie you are in pain and need immediate attention), our dentists will request that your cold sore is protected with a cold sore plaster to minimise the risk of cross-infection. Click to read our cold sore advice.
We are proud that Elmsleigh House has won an award for our Infection Prevention and Control Policy as it shows our care and commitment to protecting our patients and team.
Sepsis signs and policy. Sepsis is a life-threatening condition that can arise when the body's abnormal immune response to an infection causes organs to start failing. At Elmsleigh House we are aware that in dental practice, sepsis can arise from a bacterial infection due to a dental condition or a treatment that has been carried out; we are also aware that sepsis may present itself without a dental cause. Read our blog on sepsis to see a list of signs and symptoms and understand the need for urgent medical treatment if sepsis is suspected. https://www.elmsleighhouse.co.uk/blog/sepsis.
OUT OF HOURS APPOINTMENTS
Outside clinic hours, please call 01252 713797 to access our answer phone, which provides an emergency number for you to contact one of our dentists; patients should be called back within a reasonable time (and usually within 3 hours). Our call-out charge for emergencies is £350 plus any treatment fees. However, if there is an issue with recent work we have completed or ongoing treatment, any treatment needed as part of the call-out may be free of charge at the dentist's discretion.
CANCELLING YOUR APPOINTMENT
We do not 'overbook' to allow for cancellations, and therefore appreciate 48 hours' notice if an appointment cannot be kept. Our answering service on 01252 713797 is always available to take messages when the clinic is closed. If an appointment is not attended or cancelled with less than 48 hours' notice, you will be charged at the rate of £30 per 30 minutes for the dentist's or hygienist's time.
Regarding our facial aesthetic treatment, SculptraTM, patients must give at least a week's notice to cancel this treatment as it is mixed precisely 1 week before the appointment for use on that specific day. If a patient cancels within a week from their appointment date, they will be charged £125 per vial used.
Our practice follows stringent procedures to ensure we work with all personal data in accordance with the General Data Protection Regulation (GDPR) (EU) 2016/679.
Our practice regulates our data and practice security on an ongoing basis, and any person employed or self-employed within this practice is governed and adheres to the same policies, procedure and laws.
Click to read our website Privacy Policy detailing how Elmsleigh House Dental Clinic uses and protects the information you give us when you use this website.
A patient has a right of access to their records if they submit a written request to Cat Collins, Managing Director, Elmsleigh House Dental Clinic, 6 Station Hill, Farnham, Surrey GU9 8AA; a small fee may be required.
OUR COMPLAINTS PROCEDURE
At Elmsleigh House Dental Clinic we take complaints very seriously and try to ensure that all our patients are pleased with their experience of our service. If you are not happy with the care or treatment you have received, please contact the Managing Director, Cat Collins, on 01252 715706, email cat@elmsleighhouse.com or write to her at Elmsleigh House Dental Clinic, 6 Station Hill, Farnham, Surrey GU9 8AA, and she will deal with your complaint courteously and promptly so that the matter is resolved as quickly as possible.
Click here to read our complaints policy in full, as well as who to contact in the unlikely event that you are not satisfied with the result of your complaint. Many thanks.