INVISALIGN TEETH STRAIGHTENING IN FARNHAM
A CLEAR ALTERNATIVE TO BRACES
Are you embarrassed by your smile and would like to straighten your teeth? One of the solutions we offer is Invisalign®, a removable aligner that can fix a large range of teeth straightening issues for adults, children and teens.
WHAT IS INVISALIGN?
Invisalign is a popular solution for discreet teeth straightening involving a series of clear, removable aligners that move teeth predictably into position in around 6–18 months. Each aligner is worn for 20–22 hours a day for up to two weeks before being replaced by the next in the series, gradually moving your teeth towards the projected final position.
Although aligners should be worn all the time they are removable, giving you the flexibility to eat and drink most things during treatment by simply removing them. You can also remove aligners to brush and floss as usual, but you should fit them in place afterwards.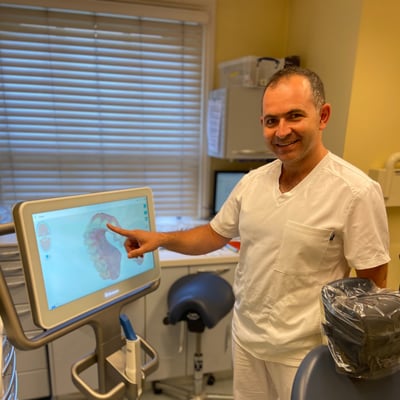 Invisalign can fix a large range of teeth straightening issues for a wide range of ages, such as overcrowded teeth, widely spaced teeth, crossbites, overbites and underbites. Unlike fixed traditional braces, there are no metal brackets or wires. For more complex cases, SmartForce attachments may be placed on the teeth to help the aligners apply the correct amount of force in the right direction.
Using cutting edge iTero Element 5D scanning technology, Kostas Spathoulas, our Specialist in orthodontics at Elmsleigh House, can plan your Invisalign treatment from the initial position of your teeth to the final desired result. You can see your virtual results before you even begin, so you will know how your teeth are expected to look when treatment is complete. Kostas will use the scans to plan and create your series of Invisalign aligners.
Kostas is a Diamond Invisalign Provider
We are delighted that Kostas Spathoulas, our Specialist in orthodontics, has been awarded Diamond Invisalign provider status for the second year. This is an exceptional achievement as it marks that Kostas has straightened over 800 people's teeth with Invisalign, and continues to treat over 200 cases each year.
This puts him in the top 1% of Invisalign providers in the UK, and is the only Diamond provider in Farnham and the surrounding area. We are so proud of this achievement, and that Kostas has helped so many people of all ages achieve a straight, healthy smile.
We also offer Invisalign Go to adults for faster orthodontic alignment in approximately 3–9 months. Sarah Mack offers Invisalign Go, which can align adults' front six or sometimes twelve teeth only, but this does not improve overbites or underbites, or move back teeth into better position. This would require Specialist orthodontic treatment, and Kostas Spathoulas has extensive experience with Invisalign clear aligners or fixed brace systems, such as Damon and Insignia. He can also align children's and teens' teeth, as well as adults of any age!