Welcome to Elmsleigh House – a private practice offering clinical excellence
We are always happy to welcome new private patients to Elmsleigh House Dental Clinic. In welcoming you to our practice, we will be introducing you to the highest quality of treatment, an exceptional range of services and a unique standard of professional care, ensuring our patients experience excellence.
Our waiting room is bright, airy and comfortable, where you can help yourself to tea or coffee, go on our iPads or read our newspapers and magazines to help you feel relaxed and at ease.
Unless you need urgent treatment, your first appointment will be for us to get to know each other and to establish where you are now with your dental health and what you want to achieve; our new patient appointment is an hour long (for adults) to ensure our time together is comprehensive and unrushed.
We always use the best and most up-to-date equipment and materials, and our team of dentists, surgeons, hygienists and technicians is dedicated to giving you advice and treatment of the highest standard. We believe you will appreciate the difference.
To book an appointment, you can contact our Welcome Team by telephone on 01252 713797 or by email at info@elmsleighhouse.co.uk. Calls will be recorded for monitoring and training purposes.
We look forward to welcoming you to Elmsleigh House Dental Clinic.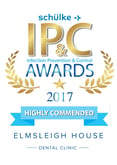 As part of our Infection Prevention and Control Policy, we ask patients that if you have a cold sore (caused by the Herpes Simplex Virus type 1) for less than 2 weeks, please reschedule any non-emergency dental treatment until after this contagious period has passed. If urgent dental treatment is required (ie you are in pain and need immediate attention), our dentists will request that your cold sore is protected with a cold sore plaster to minimise the risk of cross-infection. We are proud that Elmsleigh House has won an award for our Infection Prevention and Control Policy as it shows our care and commitment to protecting our patients and team.
---