Sepsis is a life-threatening condition that can arise when the body's abnormal immune response to an infection causes organs to start failing, resulting in 44,000 deaths per year (The UK Sepsis Trust).
At Elmsleigh House Dental Clinic it is our policy to always consider sepsis if a dental infection does not respond to conventional antibiotic therapy or when an infection cannot be drained directly.


HOW TO SPOT SEPSIS IN ADULTS
Seek medical help urgently if you (or another adult) develop any of these signs:
Slurred speech or confusion
Extreme shivering or muscle pain
Passing no urine (in a day)
Severe breathlessness
It feels like you're going to die
Skin mottled or discoloured
HOW TO SPOT SEPSIS IN children
If your child is unwell with either a fever or very low temperature (or has had a fever in the past 25 hours), call 999 and just ask: could it be sepsis?
A child may have sepsis if he or she:
1. Is breathing very fast
2. Has a 'fit' or convulsion
3. Looks mottled, bluish or pale
4. Has a rash that does not fade when you press it
5. Is very lethargic or difficult to wake
6. Feels abnormally cold to touch
A CHILD under 5 MAY HAVE SEPSIS IF HE OR SHE:
1. Is not feeding
2. Is vomiting repeatedly
3. Has not passed urine for 12 hours
At Elmsleigh House we are aware that in dental practice, sepsis can arise from a bacterial infection due to a dental condition or a treatment that has been carried out.
We are also aware that sepsis may present itself without a dental cause, and any patient attending with the symptoms described above would be identified and informed of the possible diagnosis and advised of the urgent need to seek appropriate treatment.


Elmsleigh House policy
It is our policy at Elmsleigh House to refer any patient that we suspect may be suffering from a case of sepsis immediately to our local Accident and Emergency department. We are aware that in some circumstances, such as a patient whose condition is deteriorating rapidly, it may be appropriate to refer via ambulance, in which case we would dial 999.
We would ensure that the clinical records for any patient referred with a suspected case of sepsis are completed contemporaneously, with all the relevant information including signs, symptoms, management, referral process used, means of transfer, treatment in secondary care and follow up.
Our 'out of hours' telephone message states that sepsis is a life-threatening condition, which needs urgent medical attention.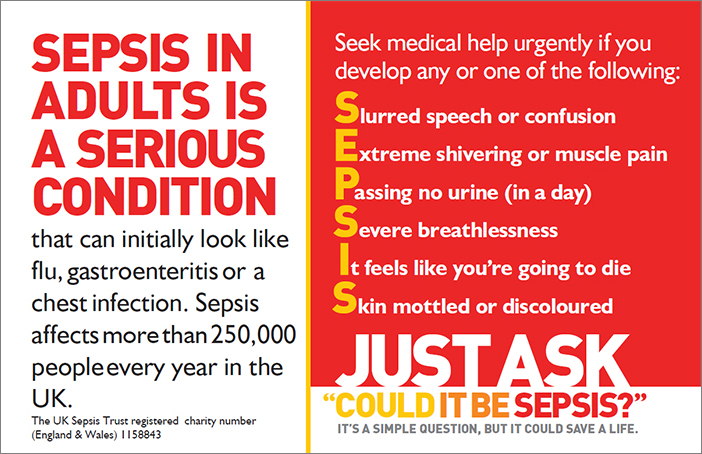 For more information visit https://sepsistrust.org. If you suspect sepsis, seek medical attention urgently.