Missing teeth are a cosmetic burden on your smile and can also bring daily challenges. The gaps left behind by tooth loss can change the way you speak and make mealtimes more of a chore. Effective dental treatment can solve these problems using modern dentures. Farnham is home to Elmsleigh House Dental Clinic, where we design and craft hard wearing dentures that look just like your natural teeth. You can say goodbye to unsightly gaps in your smile and look forward to restored function and form of your missing teeth.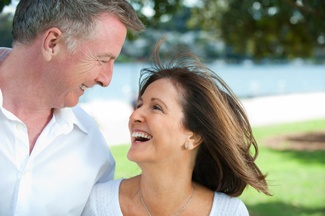 Your denture options
Dentures are often referred to as false teeth. However at our practice in Farnham, dentures look far from false. Great attention to detail when creating your dentures means you can look forward to a natural finish. This is true whether you are looking to have a partial or full denture fitted. Partial dentures are used to replace one or several missing teeth, while full dentures replace a whole jaw of teeth. Our skilled dental technician is on hand to deliver dentures that meet your particular needs. We offer two types of dentures in Farnham: premier and essential.
For premier dentures, measurements of your teeth, digital imaging and even old photographs will be used to carefully handcraft your dentures. This will ensure your dentures seamlessly blend in with the rest of your existing teeth.
For a more cost-effective but equally reliable solution, we offer essential dentures. Each tooth is individually crafted from three layers of resin and fixed on a strong acrylic base. This makes them very resistant to breaking and staining.
We are dedicated to making sure that your dentures not only look good but also fit precisely and comfortably into your mouth. For enhanced stability, we also offer denture stabilisation, which combines our custom-made dentures with dental implants.
Find out more
If you are in need of dentures in Farnham, then look no further than Elmsleigh House Dental Clinic. Your dental needs are our top priority, which means we will always strive to provide you with the best solution possible. So get in touch today to book your FREE denture consultation with Frank Johnson, our Clinical Dental Technician, and take the first step towards restoring your smile with long lasting dentures.
Arrange your FREE denture consultation by calling 01252 713797 or emailing info@elmsleighhouse.co.uk today. Click here to request an appointment online.