To celebrate the end of 2017, we're introducing the first online issue of the Elmsleigh House newsletter!
In this issue we'll share key details about:
Our exciting plans for 2018

The November antibiotics update

Care Quality Commission's feedback

How to keep your teeth healthy during the festive season

Our Christmas opening times

The December prize draw
In 2018 we'll be launching our rebrand across our website, social media channels, treatment brochures, stationary and surgeries.
So what can you expect?
Website
Our new website will be going live in December, and will have improved usability and accessibility for our patients and partners.
It will feature a dedicated, timely knowledge-sharing section, called The Elmsleigh Hub. This will be a stand-alone webpage that will include information on our case studies and treatments, as well as wider industry updates.
Patient features
In addition, our treatment information will be available in different downloadable formats, including short videos. We will also be introducing an online call back feature – this will enable you to request a phone call from our Welcome Team, at a time that suits you, to have all your questions and queries answered, and to book an appointment quickly and easily.
Can't wait? Check out our sneak preview below!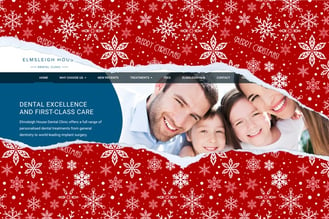 Don't forget you can keep up to date with our latest activities by following us on social media. Find us by clicking below.
In November, Healthcare-news reported that UK dentists account for 9 per cent of all antibiotics prescribed in community healthcare services.
Antimicrobial resistance is a global problem that leads to antibiotics becoming ineffective when treating simple infections, which can lead to serious consequences. And, every year 25,000 people across Europe and 700,000 worldwide die from antibiotic-resistant infections.
The UK government has predicted that the annual global toll of deaths related to these infections is set to increase to 10 million by 2050.
To help keep antibiotics working, dentists should only prescribe them to manage dental infections.
At Elmsleigh House, our dentists and hygienists offer preventative advice and treatment to minimise tooth decay in children and adults, and reduce the likelihood of infections developing.
This work also helps to:
Decrease the risk of dental decay

Reduce the need for tooth extractions

Reduce antibiotic prescribing

Reduce antimicrobial resistance
When antibiotics do need to be prescribed, we recommend patients take them in accordance with the instructions provided, to help fight the rise in antibiotic-resistant infections.


Care Quality Commission review
The Care Quality Commission (CQC) monitors, inspects and regulates health services to make sure they meet fundamental standards of quality and safety.
When reviewing the care provided at Elmsleigh House, we are delighted to report they said our patients were "extremely complimentary about the excellent service provided by friendly and caring staff", and our services were "safe, effective, caring, responsive and well led." Thanks to all involved for the glowing feedback.
Key comments from CQC's report included:
The dentists assessed each patient's gum health and took X-rays at appropriate intervals.

Patients were treated with dignity and respect, and confidentiality was maintained.

Patients were involved in their care and treatment planning so they could make informed decisions.

Patients indicated that they found the team to be efficient, professional, caring and reassuring.

There were effective processes in place to minimise the risk and spread of infection.

The practice had effective processes in place for safeguarding adults and child protection.

The practice provided the option of sedation to patients and carried this out within guidelines.

There were appropriate equipment and access to emergency drugs to enable the practice to respond to medical emergencies.

The practice had developed and copyrighted a Patient Dental Health Scorecard, which was used as a tool to measure outcomes and assess a patient's own view of their dental health.
To view the full report, click below (there's a link half way down our page):
Five festive tips to keep your teeth healthy!
From Mariah Carey's "All I want for Christmas is you" playing on repeat, to twinkling lights in shop windows and outside homes, the festive season is now upon us. We're extremely excited and hope you are too!
While we hope you have a very Merry Christmas and a Happy New Year, we'd also like to remind you to take care of your teeth.
We've created five festive tips to help you keep your teeth shining bright:
Brush after sticky food
Clean your teeth well
Eat and drink in moderation
Use a bottle opener
Don't forget the cheeseboard
For more information for each tip, read our latest blog post.

Reminder: Christmas opening times

As a reminder to all, our opening hours over Christmas are:

25 – 26 December: CLOSED
27, 28, 29 December: 08:00 – 17:30
1 January: CLOSED

For dental emergencies only when the clinic is closed, call us direct on 01252 713797 (emergency fees apply).

From the 2 January onwards usual opening hours resume:

Monday to Friday: 08:00 – 18.00
Saturday and Sunday: CLOSED

For more information on our opening times, or to book an appointment call 01252 713797 or email info@elmsleighhouse.co.uk. We'd be delighted to help!

Christmas prize draw to win an electric toothbrush!

To celebrate the festive season, we're giving away a state-of-the-art electric toothbrush as part of our monthly prize draw.

To be in with a chance of winning, simply submit a review about your experience at Elmsleigh House using one of the following channels (only applicable to patients at Elmsleigh House):

So once again, from all of us here at Elmsleigh House Dental Clinic, we would like to wish you a very Merry Christmas, and here's to a Healthy and Happy 2018!