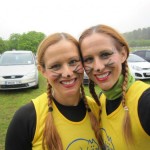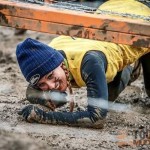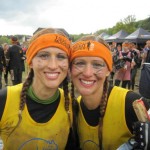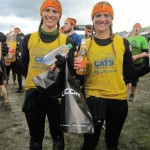 Edina and Krisztina, two of our dental nurses, took part in the Tough Mudder challenge on 3 May as part of a team to raise money for Basingstoke and District Cats Protection.
The Tough Mudder is one of the hardest courses in the UK, covering around 10 miles of obstacles designed to test physical strength and mental grit. The twin sisters have been training for 6 months and have successfully raised money for charity over the past few years doing obstacle races, but this was the hardest they had tackled!
"In the car on the way there we were very quiet... we felt nervous and excited at the same time. When we got our race numbers it became very real! We gave each other a big hug before the start line and took off to the "Eye of the tiger " song!
The course was very tough and muddy – the obstacles were challenging and scary, including some icy water, small compound tunnels, jumps from high platforms, tear gas, and we even had to run through some electric wires at the end!
At the finishing line when they put the well-deserved orange headbands on our heads we were very proud, exhausted and emotional!"
Edina and Krisztina chose to fundraise for Basingstoke and District Cats Protection as they "do an amazing job by re-homing and looking after homeless cats and kittens." Cats Protection is the UK's leading feline welfare charity, which helps over 230,000 cats and kittens every year through a network of over 250 volunteer-run branches and 30 centres. In doing this tough challenge, the twins have already raised £560 "for the kitties"!
If you would like to support the twins' achievement and Cats Protection, you can still donate online at www.justgiving.com/Krisztina-Edina-Nathan or by texting KATZ71 £(and the amount you wish to donate) to 70070. For more information about Cats Protection, visit http://www.cats.org.uk. Keep reading this blog to find out more about the Elmsleigh House team's charity fundraising!