Straighter teeth can have a positive impact on your smile and self-image at any age. Although undergoing treatment with braces is often thought of as something for children and teenagers, adults are increasingly opting to enjoy the benefits of straighter teeth. Dentistry today offers greater variety than before, when it comes to your options for achieving straighter teeth. At Elmsleigh House Dental Clinic in Farnham, braces are available for all ages and dental cases. We keep up with the latest dental technologies, so that you can benefit from these advances. With our skills and knowledge, the right teeth straightening solution can be found for you.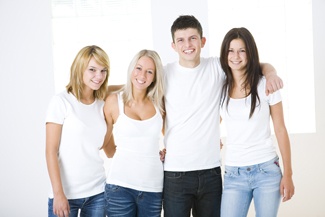 Braces in Farnham that cater to the individual

There are a number of different braces treatments available at our friendly practice. With our experienced Specialist in Orthodontics, Kostas Spathoulas, the most appropriate treatment will be selected, factoring in not only your dental health but also cost and convenience. He will take advantage of modern imaging technology to create a 3D image of your teeth, which helps us design your personalised treatment plan. Below are some of the solutions provided at Elmsleigh House:
Damon fixed braces: low levels of force are used to gradually push all of your teeth into straighter positions;
Insignia fixed braces: computer aided smile design allows the creation of customised brackets and wires for a treatment tailored to your unique smile;
Incognito lingual braces: fixed braces attached to the back of your teeth, where they are hidden from view, ensure a subtler look;
Invisalign aligners: removable clear aligners allow greater discretion and flexibility during your treatment.
These treatments vary in length, from around nine to 18 months, depending on your individual case.

Rapid results
If time is of the essence, there are speedier solutions to crooked, crowded or spaced out teeth. Focusing on your front teeth, where the cosmetic benefits are most obvious, Elmsleigh House also offers CFast and Inman Aligner braces in Farnham, which can give you more rapid results.
CFast braces are a fixed system, providing results in four to six months.
The Inman Aligner is removable and can straighten your front teeth in as little as six to 16 weeks.
Find out which braces in Farnham are right for you by getting in touch with Elmsleigh House Dental Clinic.
Call 01252 713797, email info@elmsleighhouse.co.uk or click here to request an appointment online