The November issue of Oral Health has reported that undetected tooth infections could increase the risk of heart disease by almost three times.
It reports that people with untreated tooth infections are 2.7 times more likely to have cardiovascular problems, such as coronary artery disease, than those who have had their dental infections treated.
As cardiovascular disease is a contributor to an estimated 30% of all deaths worldwide, the Oral Health Foundation is encouraging people to visit their dentist regularly for check-ups as well as booking dental appointments if they are experiencing toothache, sensitivity or bleeding gums.
Dr Nigel Carter OBE, CEO of the Oral Health Foundation said: "These new findings add to the existing links between gum disease and cardiovascular disease. It has previously been established that people with gum disease are almost twice as likely to develop heart disease than people without it; this makes the need for good oral care even more important".
Gum disease (also known as periodontal disease) is a serious bacterial infection that destroys the attachment fibres and supporting bone that hold your teeth firmly in place. Early signs are red, swollen gums that bleed easily, but are not normally painful. This early stage of periodontal disease is called gingivitis.
Gingivitis can be prevented or reversed by having regular hygiene appointments, supported with efficient teeth cleaning routines at home. If gingivitis is left untreated, it can progress to gum disease that can spread to underlying tissue and bone, which can cause one tooth or many teeth to become unstable or even fall out.

Manoj Tank is our periodontist at Elmsleigh House who is skilled in both non-surgical and surgical periodontal therapy in the management of periodontal disease; Hans-Dieter John is our periodontal and implant surgeon. Together they offer specialist and advanced techniques, including gum grafts, to treat more difficult or advanced gum problems and are familiar with the latest methods of diagnosis and treatment; because of our experience, your dentist may refer you to us for periodontal treatment.
During your first visit, we will review your dental and medical history so that we know of any medication that may affect your periodontal care. You will be given a complete oral and periodontal examination to determine if there is any gum recession and if any teeth are loose. We will measure the depth of any periodontal pockets to help assess the extent and severity of the problem. X-ray pictures may be taken to reveal bone loss around your teeth.
We also are one of the few dental clinics in the UK that offers a diagnostic test for periodontitis – the MMP8 test. This simple and effective test has been developed in Germany to detect MMP8 in a person's saliva, which if present indicates the activity of active periodontitis requiring treatment. This can be a valuable tool in detecting periodontitis and enabling timely treatment.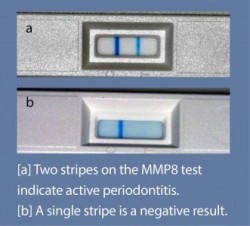 You will be given a bespoke treatment plan to eliminate the infection around your teeth and under the gums; in advanced cases, surgical treatment may be necessary to gain access to deeper infection.
Maintenance therapy is vital to stabilise periodontal disease and prevent it from recurring. Our periodontist and hygienists will monitor the condition of your gums and give advice on how to effectively remove plaque when you clean your teeth. Depending on the severity of your disease, you should see us for maintenance therapy every 3-4 months.