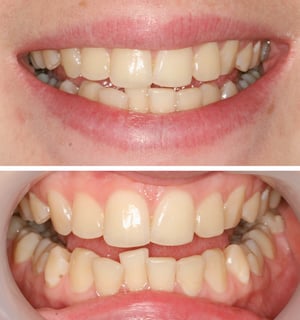 Miss T had orthodontic treatment as a teenager, but her upper front tooth was always slightly tilted and she did not routinely wear her retainers, resulting in orthodontic relapse (her teeth moving out of position).
Miss T wanted to improve the appearance of her smile, so she booked a faster orthodontic consultation with Cathleen Perrin at Elmsleigh House to discuss the option of faster teeth straightening using the anterior alignment system Cfast®.
Cathleen fitted Cfast® clear orthodontic brackets onto Miss T's upper and lower teeth, which were connected with a nickel-titanium wire. This exerts gentle pressure to move the front teeth into position, usually in around 6–9 months.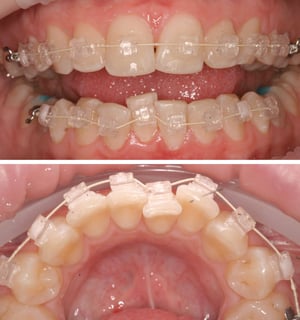 Miss T saw Cathleen for monthly reviews and tightening adjustments, and after just 5 months her lower teeth had moved into their realigned position, so the lower braces were removed; one month later her upper teeth had moved into position with the help of additional ties.
Fixed retainers were fitted behind the upper and lower teeth to hold them in their realigned position. Removable retainers were also made to wear at night and further prevent relapse.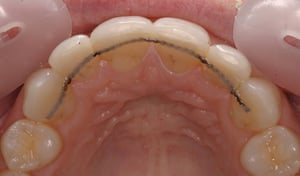 As per Miss T's treatment plan, Cathleen advised that professional teeth whitening would improve the colour of her natural teeth. Cathleen took impressions of Miss T's newly straightened teeth, and whitening trays were made to fit her teeth precisely. Miss T was shown how to apply carbamide peroxide whitening gel to the trays and fit them securely in place. She took home her trays and sufficient whitening gel to wear the trays for two to fours hours each day (or overnight), until she achieved her brighter shade, in around 3 weeks.
Cathleen then performed cosmetic bonding using composite material that matched her whiter teeth to perfect Miss T's smile; Miss T was delighted with the result!
"So happy with my new smile and so thankful to everyone here at Elmsleigh House" Miss T.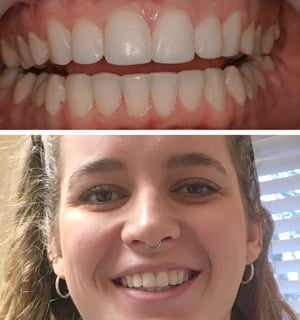 Cathleen Perrin offers a free consultation to adults to determine if Cfast® cosmetic braces would be suitable to move your front teeth into position in less time than traditional braces, and usually around 6–9 months.
Call our Welcome Team on 01252 713797 or request a callback online.