Mr B was embarrassed by the gap between his two front teeth – a very common problem. He was very self-conscious of it and rarely smiled. He did not want to be fitted with braces in his forties, so he discussed his concern with dentist Tim Thackrah at Elmsleigh House Dental Clinic.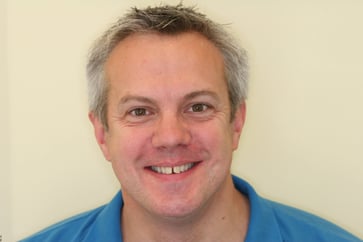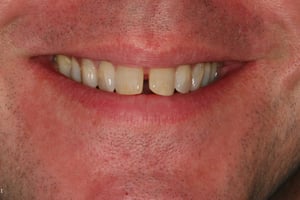 Tim performed a thorough assessment of Mr B's teeth, listened to his concerns and discussed
his options without orthodontic treatment (conventional braces).
Tim confirmed that Mr B's teeth were in generally good condition. He advised how to brush and floss effectively to remove plaque bacteria as there was some early gum disease between teeth where it is difficult to brush. Removing dental plaque (bacteria) that grow every day using dental floss will prevent gum disease as well as tooth decay.
Tim used temporary bonding material to show Mr B how he would close the gap using cosmetic bonding. He also advised that professional teeth whitening would improve the colour of his natural teeth. This would be done before the cosmetic bonding, to enable the bonding material to be matched to Mr B's whiter teeth.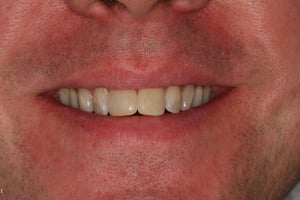 Tim took impressions of Mr B's teeth, and whitening trays were made to fit his teeth precisely. Mr B was shown how to apply carbamide peroxide whitening gel to the trays and fit them securely in place. Mr B took home his trays and sufficient whitening gel to wear the trays for two to fours hours each day (or overnight), until he achieved his brighter shade, in around 3 weeks.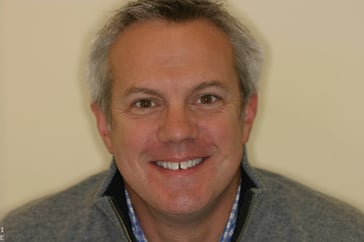 Mr B then returned to see Tim, who performed cosmetic reshaping of his front teeth to improve their visual alignment, and used cosmetic bonding material matched to his whiter teeth to close the gap in between his upper front teeth, changing his smile in just one visit!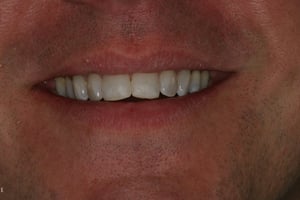 Mr B was delighted with the result, which dramatically improved his career as he can now smile with confidence when public speaking.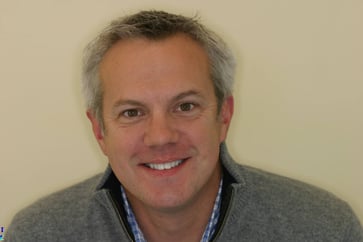 "Having cosmetic work done means different things to each person, but it's a big deal to that person. For me - I always had wonky teeth and a big gap between my two front teeth. A big gap to me at least. I was asked how happy I was with my smile, and I wasn't, so I decided to do something about it. Tim [Thackrah] was calm, made everything so simple and above all totally painless. From someone who never opened his mouth when he smiled, I now do so with confidence, which makes me smile even more. Thank you!" Mr B, Kent.
Find out more about the range of cosmetic dentistry at Elmsleigh House.