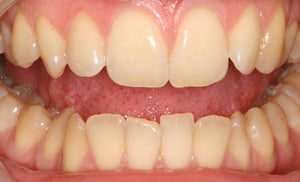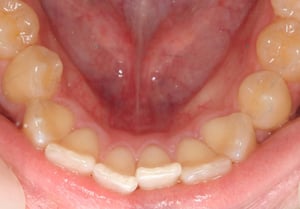 Miss A had had orthodontic treatment (braces) as a teenager, but without retainers her teeth had relapsed; her front teeth appeared slightly crowded and one of her right premolars showed crossbite.
She saw Cathleen Perrin at Elmsleigh House, who determined her upper and lower front teeth could be straightened with Cfast® discreet cosmetic braces. Miss A agreed to Cfast treatment, and had clear orthodontic brackets fixed onto her lower and upper teeth, joined with a nickel-titanium wire. This exerts gentle pressure to move the front teeth discreetly, efficiently and safely into position, usually in around 6–9 months.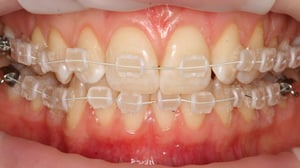 Miss A saw Cathleen for Cfast check-ups every 3–4 weeks, who also sought advise from Kostas Spathoulas, the Specialist in orthodontics at Elmsleigh House, to improve the premolar crossbite.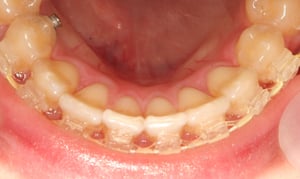 After just 5 months, Miss A's front teeth were straightened, her crossbite improved and her Cfast® clear brackets removed. A fixed retainer was bonded onto the back of her upper and lower teeth to hold them in position, and she had clear plastic removable retainers for night-time use.
Miss A was keen to whiten her teeth, so impressions were taken of her straight teeth and whitening trays custom-made to fit over her upper and lower teeth precisely. She was shown how to apply teeth whitening gel to the trays and fit them in place. The carbamide peroxide whitening gel penetrates the teeth enamel and oxidises the pigment bonds in the dentine, which brightens the teeth without damaging them. Once home Miss A applied the whitening gel to her trays and wore them for around two to four hours each day, or overnight, until she achieved the whiter, brighter shade she desired, usually within 2–3 weeks.
Once she had finished whitening, she saw Cathleen to discuss reshaping her upper right canine tooth to obtain a better symmetry to her straighter and whiter teeth. Cathleen completed a 'mock-up' to show how cosmetic bonding could be used to achieve the desired shape, and Miss A was happy with the result and wanted to proceed.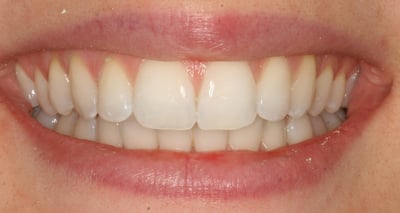 In one appointment, Cathleen used cosmetic bonding to reshape Miss A's canine tooth and restore symmetry to her smile.
"It was so worth it, really pleased with the results. Cathleen is AMAZING!" Miss A.
Call to book a free cosmetic consultation or faster orthodontic consultation with Cathleen Perrin on 01252 713797 or leave a message online: