As we mark a year since the first lockdown due to Covid-19, we reflect on the changes that have happened to us all over the past year. Despite a very difficult year with great sadness for many, we are thankful for all the positive stories, all who have fought and recovered, and for the vaccination programme bringing safety and hope.
We are thankful to have remained open since June 2020 with enhanced and stringent safety protocols in place to protect our patients and team. We continue to review all guidelines, and often go above and beyond to ensure that we continue to provide our full range of dental treatments in the safest possible environment.
Your patient journey – before attending the clinic
Before your appointment we will contact you to update your medical history form (if needing updating) and to assess your relative coronavirus infection risk. This information will be collected via email, to avoid paper usage wherever possible. If we feel that you are at risk of having possibly been infected with Covid-19, even if you are asymptomatic, we will respectfully request you delay any appointments for at least one month. We are able to see patients for our full range of general, cosmetic and specialist treatments, and patients can travel for dental appointments.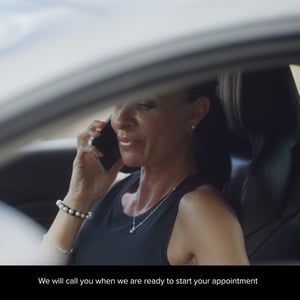 When travelling to the clinic, we would recommend that you limit close contact with other members of the public as far as possible. We ask that all patients remain outside the clinic (preferably within your car) until your appointment time, and to contact the clinic to let us know you are here before coming onto the premises.
Should a family member be travelling with you, we ask that they remain outside the clinic for the duration of your appointment unless there is a specific need (such as a parent or carer) for someone to attend with you. Please discuss this with us at the time of booking your appointment.
Your patient journey – arriving at the clinic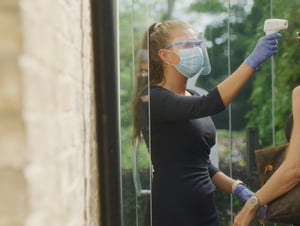 When we have confirmed we are ready to see you for your appointment, we will ask you to make your way to the glass entrance doors. We will welcome you, ask you to confirm your name and Covid status, and will take your temperature using a contactless thermometer. If your temperature is above 37.8°C, you will be unable to enter the clinic and will be asked to return home and self-isolate as per current government guidelines.
Once within the clinic, we will first ask you to sanitize your hands using alcohol hand gel and don a face mask, which we will provide. You will be asked to place any personal belongings into a plastic container, which will be stored safely within the reception area during your appointment. Although the front door is locked, we cannot accept liability for personal items, so please limit what you bring into the building.
Your patient journey – within the clinic for treatment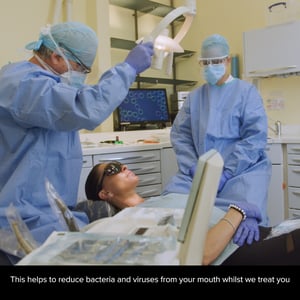 We will ask you to sign and date the medical history form you provided online (if it requires updating) and also a consent form to be treated. Once ready, your dentist will greet you wearing additional personal protective equipment (PPE); this will seem unfamiliar at first, but rest assured we will do all we can to put you at ease.
You will be taken to the surgery, where we will ask you to use a bacterial and anti-viral mouthwash before any dental treatment, and rubber dam or other barrier mechanisms will be used for more procedures than previously.
Your patient journey – ongoing care
Once your appointment is completed, you will be collected by one of our nursing team from the surgery and taken to our rear exit in order to maintain a one-way flow within the building. You will be met by one of our reception team where you will collect any personal belongings and make payment. You will be unable to make any further appointments within the clinic at this time.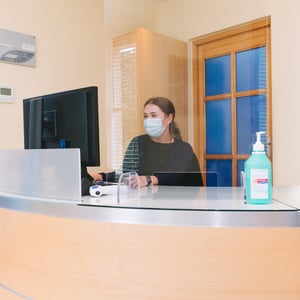 Elmsleigh House Dental Clinic will be operating only contactless and card payment systems going forwards; payments can be made online, over the phone or at the time of the appointment. Our card machine is disinfected between each patient, and also has a safety barrier placed over the keypad, which is then removed and replaced after each patient. Should you wish to pay online, we can provide you with our bank details ahead of your appointment; please just ask the reception team.
In order to limit the time within the clinic, Georgie Price, our Patient Coordinator, or one of our Welcome Team will call you to book in any follow-up appointments; alternatively, you can call or email us in order to schedule any further appointments.
You will receive your usual reminders to book in for regular dental check-ups and hygiene appointments using Airflow technology for a deeper clean, as it is important to keep your teeth and gums in excellent condition and prevent problems developing.
Watch our short film to see our new way of working; patients should wear their mask when coming into the clinic.
Our patients' safety is paramount, and we are delighted with feedback that they value the care given:
"I felt wholly safe and comfortable with the new infection control systems in place. Everything was made easy and clear. I couldn't have felt in a safer environment. Excellent safe and friendly team. Thank you!" Mrs H.
"I felt totally protected and would like to express my appreciation of all the measures that have obviously been put into place to keep us all, patients and staff alike, safe. Thank you all; keep safe and well" Mrs C.
"I would like to thank Hugh and Meena for their outstanding level of care, patience, kindness and understanding they gave me during surgery. The surgery is immaculate, and all Covid precautions are in place and strictly adhered to. I would also like to thank Georgie who contacted me and kept me informed via telephone and email communications. I highly recommend Elmsleigh House Dental Clinic" Miss S.